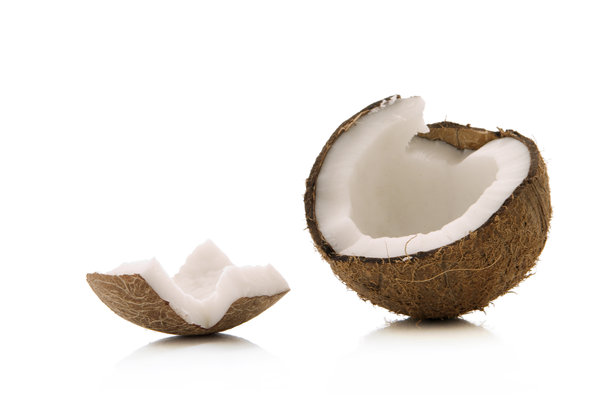 For centuries, the palm tree has been known as the "Tree of Life" to Pacific Islanders. So it's no wonder that its fruit, the coconut, is full of health benefits. Whether you eat the meat, drink the water or consume its oil, the coconut is highly nutritious and rich in fiber, vitamins, and minerals.
Here are five delicious ways to incorporate more coconut into your diet.
Coconut Oil
Is it just us, or does it seem like everyone is talking about coconut oil these days? Once thought to be an unhealthy ingredient that contributed to heart disease, coconut oil is now a favorite for many health conscious cooks. According to DoctorOz.com, "Coconut oil can boost thyroid function helping to increase metabolism, energy and endurance. It increases digestion and helps to absorb fat-soluble vitamins." It's also a healthier alternative to many other oils as it helps lower cholesterol.
Coconut oil is excellent for baking and makes a great substitute for butter. These tasty Bye Bye Butter Chocolate Chip Cookies from Picky-Palate.com, for instance, are made with one cup of soften virgin coconut oil, brown sugar, white sugar, eggs, vanilla, flour, chocolate chips and few other essential ingredients.
Or, try this Moist Banana Bread With Coconut Recipe from KidsCooking.About.com, which calls for 1/3 cup of virgin coconut oil, 3-4 very ripe bananas, cinnamon, dark chocolate chips and several other essential ingredients.
Coconut oil is also great when cooking vegetables. According to DoctorOz.com, "It is especially tasteful when paired with bitter greens like kale. You can use it as part of the onion and garlic sauté, where it offers a surprisingly different and pleasant full-bodied taste."
Coconut Milk
Coconut milk is a great way to add some character to any dish. It's also a perfect alternative for anyone who is lactose intolerant, vegan, or simply not a fan of regular milk.
These Spicy Coconut Noodles from RealSimple.com can make a great Meatless Monday recipe. They're made with a 13.5-ounce can of unsweetened coconut milk, tomato paste, chili powder, scallions, bean sprouts and kosher salt. Or, try this Coconut, Shrimp and Corn Chowder Recipe made with shrimp, potatoes, chicken broth, yellow onion, garlic and spices like cumin and coriander. It makes a hearty and flavorful dinner any day of the week.
Coconut Water
In recent years, coconut water has gained a lot of attention as a highly nutritious and low-fat drink. Besides enjoying coconut water as an icy refreshment on a warm day, there are many ways you can also incorporate it into your cooking.
For example, 3FatChicks.com suggests using coconut water to cook rice. According to the website, "The result is rice with a sweet, nutty flavor that makes a great complement to Thai or other Asian dishes. Additional herbs such as lemongrass also make a flavorful addition."
Coconut milk is also an excellent addition to smoothies, like in this Rejuvenating Coconut Water Smoothie from The Shiska in the Kitchen Blog. According to the website, "This smoothie is a natural way to re-hydrate and re-energize. It is made with a base of coconut water, a natural source of electrolytes. Bananas are easy on the stomach and nourishing; they also contain potassium, a natural electrolyte, and pectin, which helps restore normal digestive function. Coconut milk is also a rich source of manganese, which helps to level blood sugar."
You can also use coconut water to add some extra flavor to soups and marinades, as well as a substitute for water or milk in light, tropical dessert recipes.
Dry Coconut
Available in most grocery stores, dry, shredded coconut can be used in a variety of recipes, from breakfast to snack time. Take this Toasted Almond and Coconut Quinoa Porridge from Yummly.com. Made with milk, maple syrup, slivered almonds and cinnamon, this recipe is high in protein, vitamins and calcium.
Or, try these Coconut Cranberry Bars, made with graham cracker crumbs, butter, sweetened condensed milk, white chocolate chips, dried cranberries, pecan halves and coconut flakes.
Fresh Coconut
Despite all its delicious forms, fresh coconut could be our favorite type of coconut, by far. It's especially delicious when baking, like in this Fresh Coconut Layer Cake Recipe from Epicurious.com. It starts with three pounds of coconuts, sugar, cake flour, vanilla and almond extract, butter, milk and other essentials.
You can also try this Coconut Cream Angel Pie recipe from TasteofHome.com. It's made with fresh coconut (flaked), milk, butter, salt, cornstarch, sugar, egg whites and cream of tartar. Best of all, you can make this light and fluffy pie all in about an hour. Bon Apetit!
Still, our favorite way to eat fresh coconut has to be Grilled Coconut—just the way the serve it in Fiji. But don't worry, if you can't get to Fiji to try it for yourself, all you need is a coconut and a grill.
However You Slice It
Whether you enjoy a refreshing glass of coconut water, a nice big piece of grilled coconut, or a handful of dried coconut flakes in your morning cereal, coconuts are delicious and nutritious food we can't get enough of. Tell us, what's your favorite way to enjoy coconut?