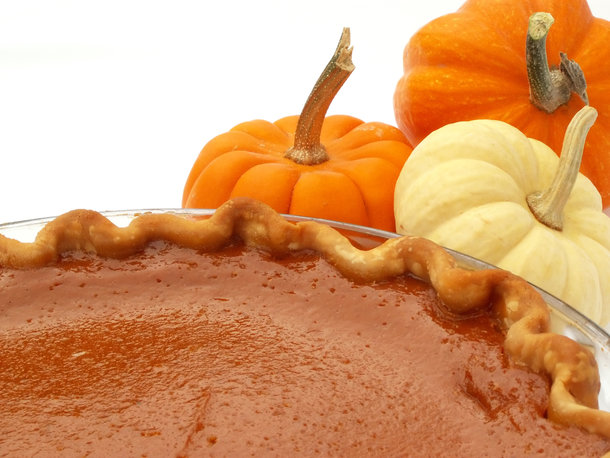 When it comes to delicious cuisine, seasonality is always in fashion. So what should you be cooking up this month? We recommend taking advantage of juicy red apples, plump pears and big, bright pumpkins. And with October being peak season for root vegetables, it's the perfect time for carrots, parsnips and beets to make their way back onto your family's dinner plate.
From warm soups to perfectly sweet desserts, here are 10 recipes to try out during the month of October.
Roasted Butternut Squash Soup
This Roasted Butternut Squash Soup from Chow.com perfectly encompasses the flavors of autumn. It's made with a bevy of fragrant ingredients, including 4 lb. of butternut squash, a medium Granny Smith apple, 1/2 a yellow onion, fresh sage and black pepper, along with some other essential ingredients.
Start by cutting your squash lengthwise and removing the seeds. Then, roast in a preheated 425-degree oven for about an hour. Next, combine other ingredients with your roasted squash (according to recipe) and bring to boil over a high heat stovetop. After flavors meld, puree soup in batches using a blender. "To add a fancy touch for a dinner party or holiday celebration, garnish with savory pumpkin seeds and granola," says Chow.com.
Sweet and Spicy Roasted Carrots, Parsnips and Chickpeas
Whether you're looking for vegetarian entree or creative side dish, you can't go wrong with these Sweet and Spicy Roasted Carrots, Parsnips and Chickpeas featured on TheKitchn.com. According to the website, "Although it does require a few special ingredients, it takes hardly more effort than the typical roasted vegetables."
For four servings, you'll need 1 lb. of carrots, 1/2 lb. of parsnips, 1/2 cup of cooked chickpeas, as well as urea biber, kosher salt, pomegranate molasses, feta cheese and parsley. Start by peeling carrots and parsnips, and scrub well. Toss vegetables with olive oil, urea biber and salt. Spread vegetables onto baking sheet and roast in oven for about 15 minutes. Then toss with pomegranate molasses, add chickpeas and roast another 10 minutes. When ready to serve, toss with feta and parsley.
Roasted Brussels Sprouts
For a tasty and healthy side dish, try these Roasted Brussels Sprouts from FoodNetwork Chef Ina Garten. They're made with just a few ingredients 1 1/2 lb. Brussels sprouts, olive oil, salt and fresh ground black pepper.
Start with a 400-degree oven. Then cut brown ends and pull off any yellow outer leaves of the Brussels sprouts. Toss them with olive oil, salt and pepper. Next, spread them evenly on a baking sheet and roast for 35-40 minutes. Sprinkle with kosher salt and serve immediately. What's even better? Each serving is only 109 calories.
Seared Pork Tenderloin with Apples and Broccoli
Apples are a staple fall ingredient. But who says they're only good for pies and crumbles? This Seared Pork Tenderloin with Apples and Broccoli from BevCooks.com makes a mouth-watering dinner that will have you thinking about apples in a whole different way.
To start, you'll need one apple bourbon pork tenderloin, trimmed of fat and slicked into 1-inch pieces. Other ingredients include cinnamon, nutmeg, coriander, butter, apples, apple cider, broccoli, shallots, salt, pepper and fresh thyme.
Mix spices in a bowl and spread on both sides of sliced pork. Heat a large skillet and sear pork for about 3 minutes of each side. Set aside. Add butter, shallots apples, broccoli and apple cider to pan (according to recipe) and sauté about two minutes. Mix pork back in. Garnish with thyme leaves and serve.
Roasted Beets and Sautéed Beet Greens Recipe
Beets are at their peak this time of year. These Roasted Beets and Sauteed Beet Greens make a flavorful lunch or dinner side dish. According to the website, "This is a great way to use every part of the fresh beets you buy. You can get two delicious side dishes out of this one vegetable."
For four servings, you'll nee one bunch of beets, greens, 1/4 cup olive oil, two cloves of garlic, two tbs. chopped onion, red wine vinegar, and salt and pepper to taste. Preheat oven to 350 degrees. Preparing beets and greens according to recipe and place on small baking dish. Cover and bake for 45-60 minutes. When beets are done, add garlic and onion to skillet and add beets. Cook until wilted and tender.
Pumpkin Lasagna
This Pumpkin Lasagna from FoodandWine.com is a delicious and easy to make. Packed with the flavors of fall, it's an ideal dish to bring to your next potluck. Start with the following ingredients: olive oil, onions, Swiss chard, salt, pepper, dried sage, grated nutmeg, pumpkin puree, heavy cream, grated Parmesan, milk, butter and lasagna noodles.
Combine ingredients and construct lasagna according to recipe. Bake in 400-degree oven and bake about 35 minutes. Looking for the perfect wine pairing? The websites suggests, "The sweet pumpkin and rich Parmesan require a powerful white with some sweetness of its own. An Oregon Pinot Gris will be perfect."
Apple Crepes
These warm cinnamon Apple Crepes from AllRecipes.com have a hint of sweetness you'll whole family will love. They're made with four Granny Smith apples, cinnamon, sugar, milk and several other essential ingredients.
You'll start by making the crepe batter whisking eggs, oil, milk and flour (according to the recipe). For the filling, mix apples, sugar, cinnamon and water in a pot until thickened. Pour crepe batter on hot pan (according to recipe) to make crepes, then spoon with apple filling, fold and serve.
Chocolate Dipped Pears
If you love the silky sweet combination of fruit and dark chocolate, have we got the dessert recipe for you. These Chocolate Dip Pears With Almond Crunch from BakersRoyale.com are sinfully delicious and are the perfect gift for someone special.
Start with six Barlett pears, medium size, 8 ox. of melted dark chocolate and 4-5 ounces of chopped salted almonds. According to the website, "Place melted chocolate in one bowl and the chopped almonds in a second bowl. Dip room temperature pears in chocolate then in almonds. Place dipped pears on a cooling rack to set." Enjoy!
Roasted Figs with Honey & Hazelnuts
Did you know that as fall gets going, we're right at the peak of fig season? Figs bring a wonderful flavor and sophistication to everything they touch, so don't forget to add them to your list of October ingredients. These Roasted Figs with Honey & Hazelnuts from Babble.com make the perfect dessert.
According to the website, " Sit fresh figs upright in a roasting pan and cut them almost all the way through, cutting from the top down, making an X. Gently push the figs open like a flower with your fingers. Roast at 400°F for 15-20 minutes, until soft; drizzle with good-quality honey and sprinkle toasted chopped hazelnuts over top. Serve warm with ice cream or on a cheese tray."
Black Halloween Punch
We love October for its cooler weather and leaves changing color, but we also love October for Halloween. Make this year's Halloween festivities even more ghoulish with this super fun and easy Black Halloween Punch Recipe from AllRecipes.com.
All you need is an envelope of unsweetened grape soft drink, an envelope of unsweetened orange soft drink mix, two cups of white sugar, three quarts of cold water and a liter of ginger ale. Combine ingredients until solids dissolve. Chill before serving. Add a "frozen hand" (made by freezing water in a latex glove) for a delightfully scary look.
From savory pork and apples, to sweet roasted figs, October is peak season for a plethora of delicious ingredients. Which ones are the top of your list for October?