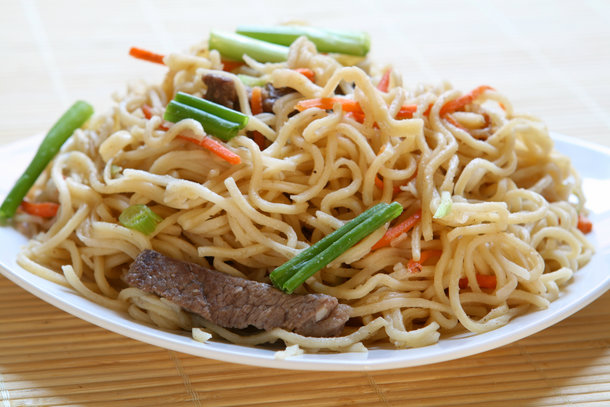 Many people think "more bread" when they want a filling dinner that won't leave them awake and snacking late into the night. But a satisfying dinner doesn't necessarily mean that you have to stack on the carbs. Here are ten satisfying, low-carb dinner recipes to fill you up and keep you on your low-carb diet.
Low-Carb Spaghetti Squash and Meatballs
Recipe via Iowa Girl Eats
 What you'll need:
2 medium-sized spaghetti squash
olive oil
salt & pepper
1 cup marinara sauce
1lb prepared meatballs
1 cup shredded mozzarella cheese
Preheat oven to 400 degrees. Pierce the center of the spaghetti squash several times on all sides with a small, sharp knife, then microwave for 3 minutes, flipping once. Cut spaghetti squash in half lengthwise with a very sharp knife, then remove seeds with a spoon. Lay halves cut side up on a foil-lined, non-stick sprayed baking sheet then brush with oil and season liberally with salt & pepper.
Roast for 50-60 minutes, or until a knife inserted into the thickest part of the squash meets no resistance. Let cool for 10 minutes. While squash is roasting, prepare and bake meatballs.
When squash is cool enough to handle, scrape flesh every which way with a fork to loosen and fluff strands. Top with 4 meatballs, 1/4 cup sauce, and 1/4 cup shredded mozzarella cheese each, then broil until cheese is golden brown and bubbly.
Pesto Zucchini Spaghetti
Recipe via Perry's Plate
 What you'll need:
4 medium zucchini, julienned thinly
generous pinch of salt
6 slices uncooked bacon
½ cup green onions, sliced
2 cups broccoli florets
2-3 tablespoons prepared basil pesto
Fresh Parmesan or Romano cheese as garnish
Place zucchini strips in a colander over a bowl or in the sink. Sprinkle with salt and toss to combine. Let the zucchini sit for 15 minutes to soften. Drain excess water and squeeze zucchini if necessary.
In a skillet over medium heat, cook the bacon until crisp, turning frequently. Remove bacon to drain on paper towels, then crumble. Remove all but 2 tablespoons of bacon fat from the pan.
Return pan to medium heat. Add green onions and broccoli, stirring frequently until crisp-tender (about 3-5 minutes). Add zucchini and 2 tablespoons of pesto, tossing to combine all ingredients. Add more pesto to taste. Cook 2-3 minutes or until warm.
Serve topped with bacon crumbles and freshly grated cheese.
Cauliflower Crust Pizza
Recipe via Umami Holiday
 What you'll need:
1 medium-sized cauliflower head
1/4 teaspoon kosher salt
1/2 teaspoon dried, crushed basil
1/2 teaspoon dried, crushed oregano
1/2 teaspoon garlic powder
1/4 cup shredded Parmesan cheese
1/4 cup mozzarella cheese
1 egg
Heat the pizza stone or baking sheet in oven at 450 degrees Fahrenheit.
Trim green leaves and stems from cauliflower and roughly chop into 2-inch pieces. Rinse under running water and then place in a food processor blender, pulsing until the texture of the cauliflower resembles powdery snow. Place cauliflower in microwave-safe bowl, cover loosely and microwave for 3 minutes.
Place cauliflower in the center of a clean dishtowel, and after it has cooled, gather the corners and wring the water content out of the cauliflower. Spend about 5 minutes doing this to ensure that all excess water is gone.
In a bowl, mix cauliflower with mozzarella and Parmesan cheese, oregano, basil, kosher salt, and garlic powder. Add egg and mix with hands until egg is fully integrated. Create a 12-inch diameter crust (1/4-inch thickness) with the cauliflower mixture on parchment paper (it may be necessary to grease the parchment paper). Slide the crust from the parchment paper onto the heated pizza stone or baking sheet and bake for 8-11 minutes or until the crust is golden-brown and appears crispy around the edges.
Garnish with your favorite toppings and bake for an additional 5-7 minutes.
Baked Spaghetti Squash and Cheese
Recipe via Skinny Taste
 What you'll need:
5 1/2 cups cooked spaghetti squash
1 tablespoon butter
1 tablespoon olive oil
1/4 cup onion, minced
1/4 cup flour (use 2 tablespoons corn starch for gluten-free)
2 cups skim milk
1 cup fat free chicken broth
8 ounces shredded mild cheddar cheese
salt and pepper, to taste
4 cups baby spinach
1/8 cup grated parmesan
Preheat oven to 375 degrees Fahrenheit. Cut the squash in half lengthwise and remove and discard seeds. Place squash on baking sheet, cut side up, and bake until tender (about 1 hour). Separate the strands of squash with a fork and scoop into a medium bowl. Discard the shells.
In a large saucepan over medium heat, heat butter and oil. Add onions and cook about 2 minutes. Stir in flour. Reduce heat to low and cook, stirring constantly for 3-4 minutes.
Add milk and broth and continuously whisk while raising the heat to medium-high until it comes to a bowl and becomes smooth and thick (about 2 minutes). Season with salt and pepper. Remove from heat.
Add cheddar chees and mix well until cheese is melted. Add cooked spaghetti squash and baby spinach. Pour mixture into baking dish and sprinkle with Parmesan cheese. Bake until bubbly and gold (about 25-30 minutes).
Chicken Breasts with Green Chile-Almond Cream Sauce
Recipe via Eating Well
What you'll need: 
2 cups unsweetened almond milk
1/2 cup reduced-sodium chicken broth
3/4 cup chopped seeded fresh New Mexican green chiles
3 scallions, sliced, white and green parts separated
3 tablespoons slivered almonds, toasted
1 clove garlic, thinly sliced
3/4 teaspoon salt, divided
6 chicken breast cutlets or fillets (about 4 ounces each)
1 tablespoon canola oil
2 tablespoons whipping cream (optional)
1 tablespoon sesame seeds, toasted
In a medium saucepan, combine almond milk, broth, green chiles, scallion whites, almonds, garlic and 1/4 teaspoon salt and bring to a boil. Reduce heat to a simmer and cook until mixture is reduced by half (about 20-30 minutes). Puree with an immersion blender or puree in a blender until smooth.
Sprinkle chicken with the remaining 1/2 teaspoon salt. Heat oil in large nonstick skillet over medium-high heat. Cook half the chicken until browned, 1-2 minutes per side. Transfer to a plate. Cook the remaining chicken until browned.
Add the first batch of chicken back to the pan. Pour in the sauce and cook at a low simmer, turning occasionally, until all the chicken is cooked through and tender (about 4-7 minutes). Remove from the heat and transfer the chicken to a serving platter. Stir cream (if using) into the sauce and pour the sauce over the chicken. Sprinkle with the reserved scallion greens and sesame seeds.
Low-Carb Lo Mein
Recipe via Tasty Kitchen
 What you'll need:
3 tablespoons hoisin sauce
1-½ tablespoon low sodium soy sauce
1 tablespoon lemon juice
1 tablespoon szechuan sauce
1 package shiritaki (tofu) noodles, 8 ounces
1 medium size zucchini squash
1 teaspoon ground ginger
⅓ cups protein of your choice
1 roma tomato, chopped
⅓ cups carrot matchsticks
2 tablespoons green onions, chopped
In a small bowl, whisk together the Hoisin, soy sauce, lemon juice, and Szechuan sauce and set aside.
Place Shiritaki noodles in a colander in the sink. Open the package and drain noodles in the colander. Run cold water over the noodles, drain again, then place them in a microwave-safe bowl. Microwave on high setting for 75 seconds. Drain one more time. Set aside
Cut the stem off the zucchini squash and discard. Use your vegetable peeler to shred the entire zucchini into long ribbon-like strands.
Heat a skillet over medium heat and coat with cooking spray. Add the zucchini ribbons to the skillet, and sprinkle with the ground ginger. Cook for about 5 minutes until they are somewhat limp, but still maintain their shape.
Add the Shiritaki noodles, meat, tomato and carrots to the skillet. Pour the sauce evenly over all of the ingredients and toss thoroughly. Raise the heat to high, letting the sauce begin to bubble and continuing to stir until the sauce is completely absorbed and the bottom of the pan is no longer slippery. Remove from heat and put it into a bowl. Sprinkle green onions on top of noodles and vegetables, and serve.
Oven-Baked Mexican Quinoa Casserole
Recipe via Vegangela
 What you'll need:
1 tablespoon vegetable oil
1 onion, chopped
1 clove garlic, minced
1 cup uncooked quinoa
1 28-ounce can diced tomatoes, with liquid
½ cup water
1 tablespoon tomato paste
1 teaspoon cumin
1 teaspoon oregano
½ teaspoon chili powder (more if you like things spicy)
Salt & freshly ground pepper
1 19-ounce can black beans, rinsed and drained
1 11-ounce can corn kernels, with liquid
3 cups baby spinach
Toppings of choice: sour cream, avocado, cilantro, cheese, etc.
Preheat oven to 350 degrees Fahrenheit. In a medium frying pan, heat 1 tablespoon olive oil. Add onion and garlic, and sauté until translucent (about 8 minutes). Remove from heat; and transfer to oven-safe casserole dish.
Add quinoa, diced tomatoes (with juice), water, tomato paste, and spices. Season with salt and pepper and stir to combine. Cover dish and bake for 30 minutes
Remove casserole from oven and stir in drained beans and corn (with liquid). If the mixture looks dry, add ½ cup of water. Return to oven covered and cook another 30 minutes.
Remove from oven and stir in spinach to wilt. Top with sour cream, diced avocado and/or cilantro and serve.
Huevos Rancheros
Recipe via Women & Home
 What you'll need:
1 tablespoon olive oil
1 onion, finely chopped
1 garlic clove, finely chopped
1 red pepper, thinly sliced
1 red chili, finely sliced
1 14-ounce can chopped tomatoes
4 eggs
1 avocado, sliced
4 ounces cheddar cheese, grated
coriander leaves, to serve (optional)
In a medium frying pan, heat oil over medium heat. Add onion, garlic, pepper, and chili. Cook for 5 minutes, then add tomatoes and cook an additional 5 minutes.
Make 4 holes in the tomato mixture and crack the eggs into the holes. Cover with a lid and cook for 5 minutes until the eggs are set.
Top with avocado, cheese, and coriander, and season with black pepper.
Crackslaw
Recipe via Crackslaw Recipes
 What you'll need:
1 lb ground beef
2 minced garlic cloves
1/4 teaspoon white sugar or sweetener
1/2 teaspoon ginger paste
2 tablespoons toasted sesame oil
1 teaspoon white vinegar
3 sliced green onions
14 ounces coleslaw mix (or shredded white cabbage)
2 tablespoons soy sauce
1/2 teaspoon hot sauce
Salt and black pepper, to taste
Brown the ground beef in a skillet and season it with salt and pepper to taste. Remove the beef from the pan and set aside. Drain off the fat.
Heat sesame oil and sauté the garlic, onions and coleslaw mix or cabbage until the cabbage is cooked to the desired tenderness. Stir in the hot sauce, soy sauce, sugar or sweetener, vinegar and ginger. Add the ground beef back in and mix well to combine.
Brie and Caramelized Onion Stuffed Burgers
Recipe via All Day I Dream About Food
 What you'll need:
Onions:
2 tbsp olive oil
1 large onion, thinly sliced
1/2 tsp salt
Burgers:
2 lbs ground beef
1/2 tsp salt
1/2 tsp ground pepper
4 oz Brie cheese, cut into small pieces
Mushrooms:
2 tbsp butter
8 oz mushrooms, sliced
Pinch salt
In a large sauté pan, heat olive oil over medium-low heat. Add onions and sprinkle with salt. Cook slowly, stirring frequently, until onions are a caramel brown color and soft (about 15-20 minutes). Turn off heat and set aside.
In a large bowl, combine beef, salt, and pepper. Mix by hand to combine well and divide into 6 even portions. Take half of each portion and form two thin patties out of each of the 6 portions. Top each thin patty with some of the brie and onions, then cover with another patty and close the edges around the brie and onions.
Cook burgers using usually burger-cooking method. While burgers are grilling, add butter to a sauté pan and melt over medium heat. Add mushrooms and a pinch of salt and sauté until mushrooms are tender. Layer mushrooms over cooked burgers and serve.
What are your favorite low-carb recipes? Share them with us in the comment section below.