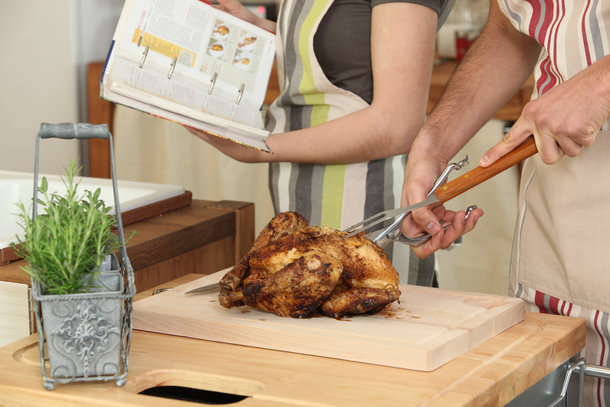 There's nothing like a good cookbook to get us out of a cooking slump or provide us with inspiration for our next food adventure. Cookbooks are excellent resources for more than just recipes, they also make great gifts for the foodie in your life. 2013 was an excellent year for new cookbooks. Here are ten you might want to check out:
Tequila Mockingbird: Cocktails with a Literary Twist
Part cocktail recipe book, part tribute to literature, this clever cookbook by Tim Federle is both entertaining and useful for finding inspiration and recipes for your cocktail needs. With 65 cocktail recipes based on classic novels, Federle also includes explanations of essentials tools and techniques to mix the perfect cocktail as well as drinking games to make drinking them even more fun.
The Pioneer Woman Cooks: A Year of Holidays
Let's be honest, most adventurous cooking and elaborate recipes have something to do with celebrating and cooking for family and friends around the holidays. Ree Drummond brings us this exceptional cookbook filled with delicious recipes to enhance and celebrate This cookbook provides recipes to fit all your holiday entertaining needs from a Thanksgiving feast for all your family and friends to an intimate dinner for a Valentine's celebration for two.
Moosewood Restaurant Favorites: The 250 Most-Requested, Naturally Delicious Recipes from One of America's Best-Loved Restaurants
Mooswood Restaurant in Ithaca, New York is considered a driving force in the world of creative vegetarian cooking. To celebrate their 40th anniversary, they have released this cookbook with updated and revised versions of their 250 most-requested restaurant recipes. This cookbook is perfect for vegetarian, vegan, gluten-free, or just health-conscious cooking needs. All these recipes are easy to make and this cookbook includes natural-cooking techniques and tips for healthy cooking and properly preparing basic healthy and vegetarian ingredients such as tofu and whole grains.
It's All Good: Delicious, Easy Recipes That Will Make You Look Good and Feel Great
As an Academy-Award winning actress, Gwyneth Paltrow wishes to take special care of her body so she can continue working at a fast-pace. Last spring, she went to the doctor after a particularly stressful period of overscheduling because she felt overly fatigued and faint. Her doctor informed her that she was anemic, vitamin D deficient, and too stressed to maintain a healthy life. He suggested an elimination diet to detox her system and get her body to heal itself back to normal levels. This meant no caffeine, dairy, eggs, sugar, shellfish, alcohol, meat, soy, wheat, or processed food. After following this diet, Gwyneth discovered that she felt better looked better, and was more energetic. However, as a self-proclaimed foodie, she also places great importance on delicious taste so she has created this cookbook full of easy and delicious recipes that follow a diet that makes both her body and her taste buds happy.
Happy Herbivore Abroad: A Travelogue and Over 135 Fat-Free and Low-Fat Vegan Recipes from Around the World
Lindsay S. Nixon has lived in eight states, visited 46 states, spent a year on a Caribbean island, and traveled to more than 35 other places abroad in the past 10 years. She has recognized the importance of food as a huge defining characteristic of getting to know other cultures, but has also recognized the importance of returning to the traditional comfort foods from your own home. In this cookbook, she combines what she loves about her traditional comfort foods with the international flavors she has experienced from her extensive travel all while maintaining a focus on healthy, vegan, and everyday ingredients.
Le Pigeon: Cooking at the Dirty Bird
Portland-based chef, Gabriel Rucker, releases this cookbook filled with over 125 recipes from his popular Portland restaurant, Le Pigeon. His serious, yet playful and slightly edgy menu is what has made this restaurant a must-visit destination in Portland, and this same attitude plays out through this unusual, yet surprisingly uncomplicated collection of recipes. This cookbook is heavy on the meat, but also features excellent wine-pairing suggestions as well as phenomenal desserts.
Daniel: My French Cuisine
Daniel Bouloud is considered one of America's most respected and successful chefs with several award-winning restaurants. Originally from France, Daniel truly became a master chef after moving to New York. In this cookbook, he pays homage to his French roots with over 75 signature French recipes as well as an explanation of the importance of bread and cheese. Daniel has adapted his French tastes to appeal to his American audience, but here we see his tastes in their pure French form with elegant recipes to ones he would prepare for his friends in a more casual setting.
Ivan Ramen: Love, Obsession, and Recipes
In 2007 Ivan Orkin from Long Island decided to open a ramen shop in Tokyo. A foreigner trying to make a name for himself in a particular and food-centric county, this was a risky move, but word soon spread about his amazing homemade noodles and his complex broth. It wasn't long before Orkin was a celebrity. Now he is back in New York to open his first US ramen branch. This cookbook chronicles his journey to fame as well as 40 recipes and a glimpse into the Japanese ramen culture.
Notes from the Larder: A Kitchen Diary with Recipes
British food writer, Nigel Slater, released a cookbook filled with more than 250 simple recipes based on his journal entries as an everyday home cook. This collection is divided into seasonal recipes for a perfect resource for any time of the year.
Bountiful: Recipes Inspired By Our Garden
This gorgeous cookbook by food photographers Todd Porter and Diane Cu, share recipes that are fresh with seasonably available ingredients. Their biggest cooking inspirations are the fruits and vegetables that grow in their own garden. This cookbooks shares their love story as well as 100 recipes which each feature fresh fruits or vegetables.
What is your favorite cookbook of 2013? Let us know in the comments section below.