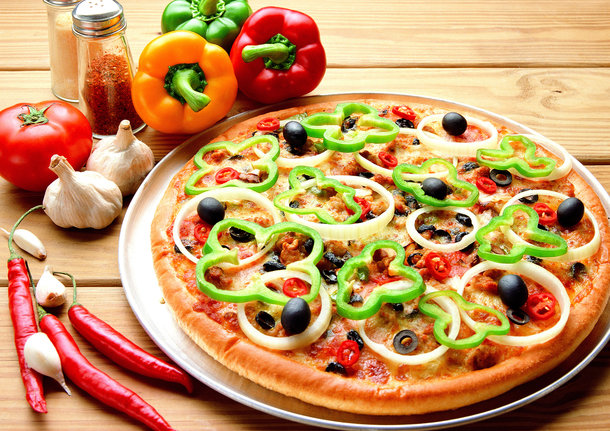 Pizza. It's a go-to comfort food that rarely disappoints. Who doesn't love crispy crust and layers of gooey cheese? What's even better about pizza is that no matter how much you eat it, you can always find a new style to try. From deep dish to thin crust, from pepperoni to Hawaiian, there's always a new favorite topping discover.
These days, many restaurants are even going gourmet with their pizza, offering a multitude of different non-traditional creations. So if you're looking to take your pizza to the next level, here are a few combinations to get you started.
Brilliant Breakfast Pizza
Enjoying a cold slice of pizza after a night out is a staple among party-going college kids everywhere. And, we can't really blame them because, well, cold pizza isn't too bad. But if you'd rather enjoy your breakfast pizza warm, we suggest trying out this twist on the traditional pizza at Los Angeles' Central Market. It's topped with ham, cheese and eggs.
Can't make it all the way to LA for your breakfast pizza? Make your own at home with this Egg, Ham and Spinach Pizza recipe from FoodNetwork.com. It starts with one store-bought baked thin crust pizza shell, four cups of baby spinach leaves, two teaspoons of olive oil, three ounces of prosciutto, half cup of grated Parmesan cheese, some garlic and four eggs. Distribute ingredients on top your crust and toss it in a pre-heated 450-degree oven, bake 12-15 minutes and enjoy.
Give Me Gorgonzola
Gorgonzola cheese is a foodie favorite, particularly popular in appetizers, salads and pasta. It also goes well with delicate tasting fruits like pears and figs. So, it's really no wonder the Fig & Gorgonzola Pizza is hot item on the menu at Cuccina Urbana, a Zagat-rated restaurant in San Francisco. They make it with caramelized onions, candied pecans, arugula and aged balsamic.
Want to make your own gorgonzola pizza? Check out this Pear, Gorgonzola and Walnut Pizza recipe from FarmFlavor.com. It's a healthier spin on the heartier pizzas. According to the website, "The pears are a great source of Vitamin C and are only 100 calories. The walnuts add heart healthy omega-3 fats."
To make this pizza, you'll need one pear, two pre-baked 8-inch pizza crusts, 2/3 cup of gorgonzola cheese, 1/4 cup diced walnuts, 1/8 teaspoon ground black pepper and 1/2 teaspoon of fresh thyme. Sprinkle ingredients over crust and place into a pre-heated 450-degree oven for 12-14 minutes.
Magnificently Mexican
From New York to LA, and everywhere in between, Mexican cuisine is hugely popular among foodies across the country. Taco stands, food trucks, and tiny restaurants serving up Mexican favorites are attracting lines out the door. So it really comes as no surprise that local pizza joints are giving in to the Mexican craze with their own specialty pizzas.
Milford Pizza & Mexican Food in Milford, CT, for example, offers a Mexican Pizza that's popular among Yelpers. It comes with refried beans, red sauce, onions, peppers, mushrooms, broccoli and spicy pork. Meanwhile, Pizza Pomodoro in Ogden, UT, also offers several Mexican-inspired pizzas, including a Carne Asada Pizza, Chili Verde & BBQ Chicken Pizza, as well as one with chorizo, peppers and pinto beans.
If you're looking for a Mexican-inspired pizza to make at home, we suggest Jimmy's Mexican Pizza recipe from AllRecipes.com. According to the website, it includes, "Specially seasoned ground beef, refried beans, salsa and cheese layered in a deep dish style. It is a tasty and easy Mexican-style pizza with a flour tortilla crust." It is also loaded with flavor-adding ingredients like onions, chili powder, paprika, black pepper, salt and jalapeno peppers.
Or try this Mexican Pizza recipe from FoodandWine.com. According to the website, "Deconstructed nachos were the inspiration behind this fun pizza. Made with chili-spiced black-bean puree, tomatoes, olives, shredded lettuce and low-fat Jack cheese on a whole-wheat crust, the pie also gets a little low-fat sour cream (that nacho staple) on top."
Creative Cauliflower Crust
Eating pizza can be challenging for those with an intolerance to gluten or anyone dedicated to a Paleo lifestyle. Fortunately, a large number of chefs and bloggers are providing a solution to this problem with creative pizza recipes that include zero wheat. LaurenConrad.com, for instance, features a carb-less pizza recipe, complete with chunky tomato sauce, tons of vegetables (zucchini, broccoli, tomato, onion, mushrooms), mozzarella cheese and a cauliflower crust.
"The entire crust is only 434 calories, which is just insane," says Conrad. "Usually a single slice of pizza will cost you 400 calories alone. With this cauliflower version, one serving is just 109 calories."
Detoxinista.com also shares a pizza recipe made with cauliflower crust.
"Since traditional pizza is mis-combined, thank goodness for whoever came up with the idea of making a cauliflower-based pizza crust. Now we can have our crust AND cheese, and eat it, too! All without feeling sluggish and greasy afterward." Find out exactly to making to the perfect cauliflower crust here.
More Pizza, Please
Whether it's hearty and meaty, or light and healthy, we foodies love pizza, and it doesn't look that will change any time soon. To explore even more innovative recipes, check out creative pizza topping choices from YumSugar.com. Which one is your favorite?