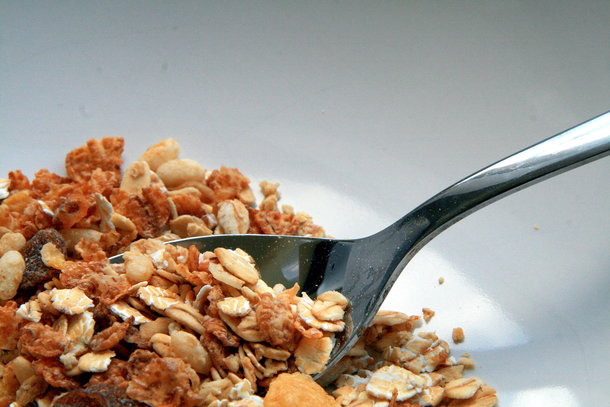 Granola is a breakfast favorite that's right up there with pancakes and scrambled eggs. Whether you like your granola mixed with yogurt, soaked in milk, or on its own, this crunchy cereal is not only tasty, but a healthy option too.
What's even better, granola is very simple to make at home. Blogger Lori Lange of RecipeGirl.com says, "If you've never made your own, you might be surprised how ridiculously easy it is to make. Just a little mixing and then toasting it in the oven. And the great thing is– you can customize it to exactly how you like it."
But before we get to the recipes, let's start with a few granola-making basics:
When making your own granola, always used rolled oats, not the quick cooking kind.

Make sure to include your favorite nuts, seeds and dried fruit.

For extra nutrients, add in super seeds like flax, chia or hemp seeds.

Avoid adding oils to your granola.
Now that you know the essentials to make granola, here are five delicious homemade granola recipes to get you started.
Apple Cinnamon Granola
Apple and cinnamon are a favorite flavor combination, especially in the fall. If you're looking for a yummy breakfast choice for those cool autumn mornings, try out this Apple Cinnamon Granola recipe courtesy of HealthyFoodForLiving.com.
It starts with the following ingredients:
1 1/2 cups rolled oats
1 1/2 cups puffed brown rice cereal
6 Tbsp unsweetened applesauce
1/4 cup pure maple syrup
1/2 tsp pure vanilla extract
1 Tbsp ground cinnamon (yes, it's a lot of cinnamon, but you want this to be the predominant flavor!)
1/4 tsp salt
1/2 cup chopped nuts, such as walnuts, pecans, or almonds (I used walnuts)
1 cup chopped dried apple rings, preferably unsweetened & unsulfured
Put it all into a preheated 325 degree oven for 10-15 minutes, or until the granola is golden brown and crisp. Then, let cool and enjoy. According to the website, "Dried apples pay homage to the season of orchards, cider, and pie; a generous amount of cinnamon contributes a fragrant aroma and spicy-sweet flavor. The applesauce-coated clumps of granola turn crunchy in the oven, and are nicely complimented by the chewy dried apples."
Dark Chocolate & Cherry Granola
There is something delectable about the combination of chocolate and cherries. Who says this duo has to be limited to desserts? If you're a choco-holic looking for a healthier twist on a sweet breakfast, we definitely recommend this Dark Chocolate & Cherry Granola recipe featured on TheSweetLifeOnline.com.
Here's what you'll need:
4 cups rolled oats
2 cups slivered almonds
1 cup unsweetened coconut flakes
1/2 tsp salt
1 tsp cinnamon
1/2 cup canola oil
1/4 cup agave nectar
1/4 cup brown sugar
(1) 4 oz chocolate bar
1/2 cup dried cherries
You'll also need a pre-heated oven set to 350 degrees, and two baking sheets lined with wax paper or silicone baking mats. After mixing together your ingredients in a large bowl, spread everything out evenly onto the baking sheets and bake for about 30 minutes. When it's all done, you'll have a tasty treat that's crunchy, sweet and chocolaty in every bite.
Click here for the detailed recipe.
Fruit & Nut Granola
If you fancy fruit more than you do chocolate, a fruit and nut granola that's more on the traditional side may be the right choice for you. Here's a great Homemade Granola Recipe from RecipeGirl.com that has sliced almonds, apricots and dates. But remember, you can substitute these ingredients for your favorite combination of dried fruit and nuts.
Start with:
3 1/2 cups old-fashioned rolled oats
1/2 cup sliced almonds, roughly chopped pecans or unsalted cashews
1/4 cup packed brown sugar
1/2 tablespoon grated orange zest
1/2 teaspoon ground cinnamon
1/4 teaspoon grated fresh nutmeg
1/4 cup (1/2 stick) unsalted butter
3 tablespoons maple syrup
1/2 cup shredded or flaked coconut, toasted (see tips below)
1/2 cup coarsely chopped dried fruit (raisins, dates, figs, blueberries, cranberries and/or apricots)
Combine all ingredients in a large mixing bowl. Stir together until mixed well. Place everything on a greased baking sheet and toss into a preheated 325 degree oven.Then bake for 20 minutes.
Check out the full recipe here.
Peanut Butter Granola
Peanut butter is a healthy food option that's both nutritious and filling. Adding this ingredient to a breakfast or snack will give you enough vitality to last through the rest of your day. Here's an energy-boosting Peanut Butter Granola recipe from SparkPeople.com that's perfect for mornings when you need a little extra push.
Start with these ingredients:
2 tbsp. creamy peanut butter
2 tbsp. honey
1 tsp. cinnamon
1 tsp. vanilla extract
1 c. oats
Combine peanut butter, honey, cinnamon and vanilla into a mixture. Toss with oats. Then spread your mixture on a greased baking sheet and put in a preheated 325 degree oven for 7-8 minutes. Cool and enjoy.
Savory & Spicy Granola
If your taste buds aren't partial to sweetness, don't fret. You can still enjoy granola, we promise. In fact, there is an array of homemade full-flavored granola recipes to choose from. Take this Savory & Spicy Granola recipe from MayIHaveThatRecipe.com, for instance.
Here are the ingredients you'll need:
1 cup rolled oats
¼ cup grape seed oil (or any other oil with neutral flavor)
3 tbsp maple syrup
1/2 tsp salt (or to taste)
½ tsp coriander
½ tsp turmeric
1 tsp smoked paprika
1 ¼ tsp chili powder
¼ tsp cayenne pepper (or to taste)
½ tsp ginger powder
2 tbsp raw pumpkin seeds
¼ cup raw pecans
In a large bowl, combine all ingredients. Spread the mixture in one even layer on prepared baking sheet and bake at 275 degrees for 55 minutes until golden brown, stirring every 15-20 minutes so it bakes evenly.
You can find the full recipe here.
Going Gaga For Granola
Sweet or savory, on it's own or on some yogurt, granola is a great food option for any time of day. With so many recipes to make delicious homemade granola, there's no need to spend money on pricey granola at the supermarket. All it takes are the right ingredients and a little creativity.
Do you make your own granola? How do you flavor it?