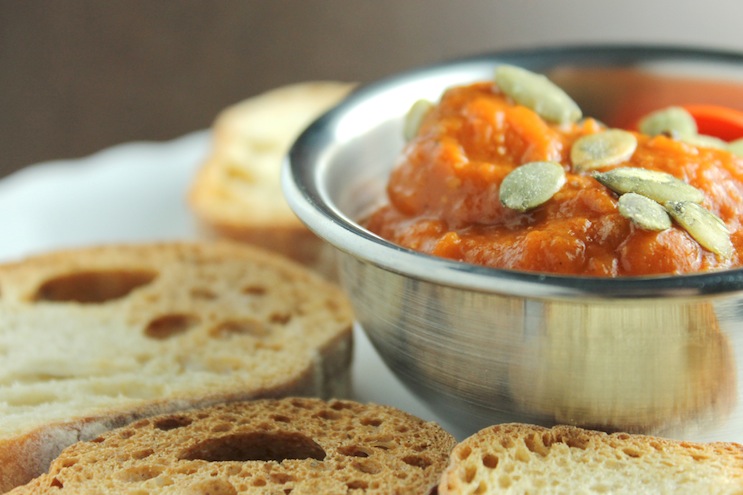 Hosting a party or gathering can be stressful, especially when you're trying to feed your guests. Appetizers are a big part of celebrating, but they can be a hassle when trying to do everything else that comes along with preparing for an event. Instead of trying to take up oven space, stand over the stove, or even cook frozen appetizers that don't always taste good, why not try one of these easy to put together dips? They come together fast, use only a few ingredients and are always impressive. Many of them contain ingredients that you might have on hand, making them perfect for unexpected guests.
Creamy Pesto Goat Cheese Dip
Brightly flavored basil and tangy goat cheese are combined to make a delicious dip that is sure to impress. It's easy to make too. Take an 8 ounce block of cream cheese, 4 ounces of goat cheese and 1/2 cup prepared pesto and put it in your food processor. Puree until smooth and creamy. Transfer to a plate and drizzle with olive oil and top with pine nuts. Serve with sliced veggies, pita wedges or crostini. While using jarred pesto is perfectly fine here, it's even better if you make your own.
Easy Spinach Dip
If you have a food processor, you can make this easy and delicious spinach dip that will rival any spinach and artichoke dip you've had at your favorite restaurant. To make it, take a cup of sour cream, 2 cups baby spinach leaves, a clove of garlic, and the juice of 1 lemon and puree in a food processor. Stir in a 1/2 cup of finely grated Parmesan and transfer to a bowl. Drizzle with olive oil, and season with fresh ground pepper. It's great with sliced veggies, tortilla chips, or toasted pita bread.
Chocolate Chip Cheesecake Dip
This easy to prepare dip tastes just as good as an expensive cheesecake, but it comes together in minutes. It's a big hit with kids, but adults love it too. To make it, combine a stick of softened butter with 8 ounces of cream cheese. Beat until smooth and add 3/4 cup powdered sugar and a teaspoon of vanilla. Beat until creamy and fluffy and then stir in a cup of chocolate chips. If you want a real cheesecake experience, serve this with graham crackers, but it's also delicious with apple slices or strawberries.
Curried Pumpkin Dip
Canned pumpkin makes this delicious and flavorful dip an easy appetizer that's perfect for a fall gathering, football Sunday, or just anytime you want a healthy, delicious snack. It's the spices that make this dip so amazing, so don't leave anything out! To make it, combine 1 can of pumpkin puree (make sure it's not pie filling!) with 2 tablespoons coconut milk, 1 teaspoon curry powder, 1/4 teaspoon cayenne pepper, 1 teaspoon ground ginger, and 1 garlic clove. Put everything in a food processor and blend until smooth. You can add some pumpkin seeds for crunch and texture if you'd like. Serve with pita chips, veggies, or crostini.
This creamy dip is rich with bright flavor thanks to lemon zest and peppery garlic. Don't be tempted to add more than a clove of garlic; raw garlic can be overpowering if you use too much. To make, combine 8 ounces of softened goat cheese with 1 clove of minced garlic, and the zest of 1 lemon. Season with lots of freshly ground black pepper and drizzle with olive oil before serving. This dip is perfect with pita chips or crostini, but for a healthier snack, celery sticks, baby carrots, and sliced cucumbers are equally delicious.
White Bean Parmesan Dip
Pureed white beans make a creamy, flavorful dip without a lot of fat that typical creamy ingredients like mayo or sour cream add. They're also inexpensive and filling, so if you're having a party and want something that will help fill up your guests, this is a great choice. And don't worry about bean haters; most won't even be able tell that's what this is made of. To make, drain a can of white beans and rinse under cold water. Put in a food processor with a clove of garlic, the juice of 1 lemon, a tablespoon of olive oil and 1/2 cup grated Parmesan cheese. Puree until smooth, adding a bit more olive oil to thin out if desired. Serve this at room temperature with sliced veggies for a healthy option.
Creamy Salsa Dip
This two ingredient dip is perfect when you want something that's a little more impressive than plain old salsa, but just as easy to serve. Combine a cup of salsa with a block of softened cream cheese, and serve with tortilla chips. That's it. You can either blend it in a food processor for a creamy dip, or you can put the cream cheese on a plate and just pour the salsa on top if you want a little more texture. Either way, it's delicious, easy to make, and perfect for an impromptu gathering.
 Tzatziki
Easy to prepare, this Mediterranean dip also makes a good sandwich spread. Flavored with cucumbers, garlic and olive oil, it's light and refreshing with a pleasant tanginess from the yogurt base. To make, combine 2 cups plain yogurt (use the Greek variety if you want something thicker) with half a shredded or finely chopped cucumber, 1 clove of garlic, the juice of 1 lemon and a tablespoon of olive oil. Stir until well combined and season with salt and pepper. Serve this dip with pita bread, pretzels, or sliced veggies for a flavorful, easy to put together appetizer that your guests will love.
Salted Caramel Yogurt
Sweet, salty, and slightly tangy, this easy to prepare dip is perfect when you have to put something together fast, but you still want it to be impressive. Topped with nuts, it's got everything you could possibly want in a dip. To make it, put a cup of plain or vanilla yogurt in a bowl. Heat 1/4 cup of caramel sauce in the microwave until slightly warm and soft. Pour the caramel over the yogurt and swirl just a bit. Sprinkle coarse sea salt and chopped pecans on top. Serve with apple slices, pretzels or graham crackers for a delicious treat you may not want to share.
Birthday Cake Dip
While this isn't one of the healthiest dips out there, it is delicious, and easier to make than a cake. To make, combine a box of Funfetti cake mix with 2 cups vanilla yogurt and 1/2 cup whipped topping in a mixing bowl. Beat until smooth and creamy. Transfer to a serving bowl and top with sprinkles. Serve with pretzels, animal crackers, or strawberries.
Conclusion
Don't let hosting a party get you down. The next time you have to host an event, take some of the edge off by making an easy to prepare, no cook dip. Your guests will love them, they're easy to prepare, and you can make them in advance so that when the first person arrives, you just take your dip out of the fridge and you're ready to go, but they are also easy enough to throw together for an impromptu guest.