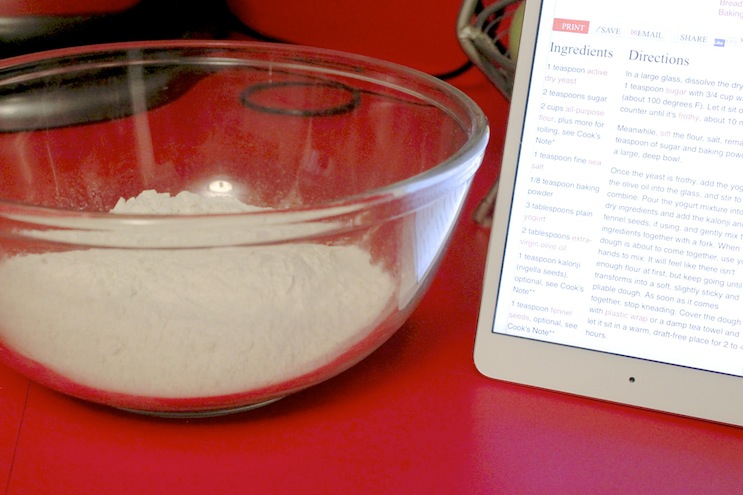 Technology is changing the way the world works in almost every aspect of our lives, including the way we think about food. These days, our computers, smart phones and tablets make it easier than ever to find out new food trends, try new recipes, and share what we've found with the world.
While some of the tech trends on this list may not come as much of a surprise, you may be surprised at some of the things you can do in the modern world that will change the way you think about food and cooking forever.
Find a Restaurant
It's easier than ever to find new restaurants in your area. You can start with Google, but there are many apps and websites that will tell you the location of your favorite restaurant, show you the menu and more. Now, the answer to the question "Where do you want to eat?" is always a quick search away.
Rate Your Favorites
Sites like Yelp allow you to not only look up your favorite restaurants by location, they also allow you to leave a detailed rating. Had a great experience at a local taco place? Tell the world about it. Not only does this help you find out which places are most liked, but it also keeps restaurant owners on their toes because they don't want bad ratings. It's a win for everyone!
Count Calories or Watch Your Nutrient Intake
Whether you're trying to lose weight or just watch what you eat, there are dozens of apps and websites that will help you. You can download a free app to your phone or tablet in minutes and know the exact nutrient breakdown of what you're eating wherever you are. Some you have to pay for, such as Weight Watchers, but there are other really great apps, like Lose It, that are totally free.
Save and Organize Recipes
Instead of printing out every recipe you want to try, why not organize your recipes digitally? Whether you use something specifically designed for recipe management or more generic software like Evernote, you can keep everything in one easy to search place. You'll never lose your favorites again!
Share Recipes
There are hundreds of ways to easily share recipes. You can start a blog if you're looking to build an audience, or you can simply upload your favorites to a popular website like All Recipes. If you just want to share something with your close-knit circle of friends, you can simply share it on Facebook. Pin your favorite mouthwatering pictures to Pinterest or upload your own photos to Instagram. Sharing a recipe is as easy as clicking a button.
Teach Your Kids How to Cook
If you have kids and an iPad, chances are they want to use it to play games or do other fun stuff, but why not use it to teach them how to cook? Apps like WeCookIt teach kids the basics at a young age and get them excited to be in the kitchen, which is an invaluable skill for later years.
Keep Up to Date with Your Favorites
Want to know what the daily specials are at your favorite restaurant? Check to see if they have a Facebook page where they share news and information about their business. Soci
al media sites like Facebook, Twitter, and Instagram allow you to not only share your own information, but also to follow your favorite businesses. Don't limit it to restaurants; you can follow food blogs, your favorite recipes sites, or even a specific chef.
 Find Exotic Ingredients and Foods
Years ago, if your local grocery store didn't have something you needed to make a unique or ethnic dish, you either had to find a specialty market, find a substitute or give up entirely. Now, with the world at your fingertips, you can find almost any ingredient or food you want and have it delivered to your door within a few days or even sooner. Common sites like Amazon have a lot to offer, but a quick search will deliver thousands of specialty retailers that are probably selling whatever it is you're looking for.
You can even find amazing and delicious homemade baked goods, jams, teas, and chocolates on sites like Etsy or Foodzie. Instead of buying the same mass-produced products when you need a unique gift, try one of these sites and buy something special.
 Make a Digital Grocery List
Everyone that's ever made a grocery list has walked out the door only to realize they forgot the list. Now, you can make a list on your phone (which, let's face it, you never forget) and have it with you wherever you are. There are hundreds of grocery store apps that allow you to not only make lists, but keep track of prices, or even share lists with your family.
Save Money
Gone are the days of clipping coupons from the Sunday paper. You now have many ways of saving money at the grocery store, including printing your own coupons any day of the week. There are apps that will allow you to find coupons, compare prices, and even let you scan coupons or your shopper's card at the grocery store. This means no more envelopes of clipped coupons; you have everything where you need it, when you need it.
Make Reservations
Don't bother calling your favorite restaurant to make reservations. You can do it quickly and easily with sites like OpenTable. Look up times, book reservations, and even earn points that can be redeemed for products and services from your favorite places.
Replace Your Cookbooks with Digital Versions
If you have a tablet, you can buy full color, easily searchable cookbooks that you can download to your tablet with the click of a button. Many digital cookbooks have extra features, like interactive videos that demonstrate exactly what needs to be done and when. If you get a kitchen stand for your tablet, you never have to store dozens of books, or worry about dripping food on the pages.
Use Your Phone or Tablet as a Timer
There are plenty of timer apps for your phone or tablet and they allow you to set multiple timers and you can even label what they're for. No more egg timers, and no more wondering what the microwave is beeping for.
Find Out How Environmentally Friendly Your Choices Are
Look up environmentally friendly restaurants with apps like Local Dish. Find a local farmer's market, learn which foods are in season in your area, or learn how to grow your own organic food right in your backyard.
Order Your Favorites Without Picking Up the Phone
Want to order a pizza from your favorite pizza joint without making a phone call? You can do it either on the web, or from their app if they have one. Order burritos to pick up, or have your Chinese delivered. In most cases, you can even pay for it right there, so you can walk in and pick it up without having to wait in line. Starbucks has an app that allows to you pay for your order with your phone, making it super simple to run in and grab a coffee on a busy day.
Check In
Want your friends and family to know which fine restaurant you're dining in this week? Use apps like Facebook or FourSquare to check in. These apps use your location to pinpoint exactly where you are eating, and sometimes even offer discounts based on how many times you've checked in in the past.
Conclusion
The next time you need an exotic ingredient or are wondering what your favorite restaurant is up to, you can use this list to help you find what you're looking for quickly and easily. If you have a smart phone or tablet, there is no reason not to take advantage of apps and software that will change the way you think, eat, and cook.