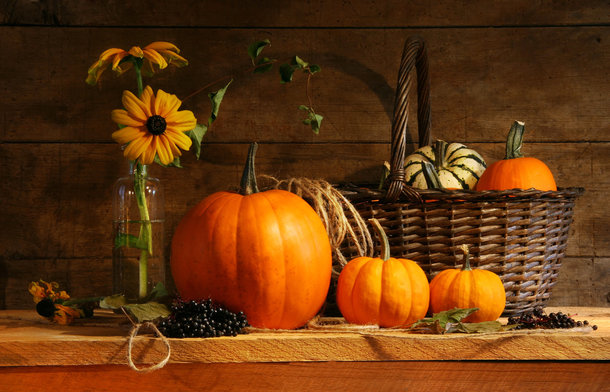 The air is getting crisper, the leaves are turning and a definite sense of change is upon us. Autumn is officially in full swing, and with it comes a bounty of fresh new ingredients we foodies can take advantage of in the kitchen.
At the top of our list this season—big, bright pumpkins. Besides being packed with vitamins, we love pumpkins because they work wonderfully in both sweet and savory dishes.
So put on your apron and taste the flavors autumn with these 7 delicious pumpkin recipes.
Pumpkin Pancakes
Who doesn't love a big stack of pancakes on a lazy Sunday morning? This Light and Fluffy Pancake recipe from Food.com make a perfect breakfast that will keep you full for hours.
Start with six tablespoons of canned pumpkin puree, melted butter, some nutmeg, ginger, cinnamon and a pinch of clove, along with some other essential ingredients, and mix everything into a batter. Then, pour batches of your batter onto a heated and greased skillet, cooking each pancake for about 3 minutes per side. Serve them up with some butter and syrup, and wash down with a fresh glass of OJ.
Pumpkin Fritters
Delicious and easy to make, these Pumpkin Fritters from iVillage.com are perfect for breakfast, lunch or dinner. They're made with one 15-ounce can of pumpkin puree, a 1/2 cup of flour, one egg, butter, ground cinnamon and a few other essential ingredients.
Once your ingredients are combined in a large bowl, drop spoonfuls of your mixture onto a hot skillet and lightly flatten with a spatula. Cook about 4 minutes on each side or until golden. Sprinkle hot fritters with cinnamon and sugar before serving.
Pumpkin Soup
There's nothing like drinking a warm bowl of soup on a cool autumn evening. We especially love this Roasted Pumpkin Soup from MarthaStewart.com because it's easy to make and uses a bevy of flavor-packed ingredients like garlic, onions, shitake mushrooms, freshly ground pepper and vegetable stock.
To make it, start by cutting your pumpkin into 2-inch pieces. Combine with mushrooms, garlic and onion before tossing it all into a 450-degree oven. Roast about 30 minutes, or until pumpkin is tender. Then put everything in a saucepan and cook with vegetable stock. Slowly add batches of your mixture to a blender and puree until smooth. Enjoy a bowl of soup with a big piece of crusty bread for the ultimate lunch or dinner.
Pumpkin Ravioli With Sage Butter
If you're looking for a recipe that's both a little more challenging and unique, try this Pumpkin Ravioli With Sage Butter featured on Williams-Sonoma.com. According to the website, it features handmade pasta and a "Sauce of lightly browned butter and fresh sage, which heightens and contrasts with the sweetness of the pumpkin in the filling." This is certainly a dish that will delight your family and friends at your next dinner party.
For the filling, you'll need ingredients such as a 1-lb. piece of Cheese or Sugar Pie pumpkin, grated Parmigiano-Reggiano or grana padano cheese, freshly grated nutmeg, dried breadcrumbs, fresh sage leaves and a few other essential ingredients. Check out the website for the full step-by-step recipe.
Turkey Pumpkin Chili
We certainly love traditional recipes with a bit of a twist, especially when they boast added nutrients without sacrificing flavor. That's why this Turkey Pumpkin Chili from WholeFoodsMarket.com is next up on our list. According to the website, "Besides adding a sweet nutty flavor to dishes, pumpkin is a ready source of vitamin A, which boosts the nutrition content of this offbeat chili."
Start with a can of pumpkin puree, a pound of dark meat turkey, a yellow onion, a green bell pepper, two jalapeños, a clove of garlic, a can of diced tomatoes, a can of kidney beans, a cup of water and some spices (salt, pepper, cumin and chili powder). Then heat two tablespoons of olive oil in a large pot over high heat. Toss in your ingredients (according to recipe), stirring occasionally for about 30 minutes. Cover and simmer for about 30 minutes more. Serve and enjoy!
15-Minute Pumpkin Risotto
The next time you're looking for a creative side dish that won't take hours to make, try this 15-minute Pumpkin Risotto from MyRecipes.com. It's packed with warm fall flavors and pairs perfectly with grilled chicken or fish.
Start with one cup of canned pumpkin, dry white wine, chicken broth, onion, margarine, cornstarch, precooked white rice, parmesan cheese and some essential spices. Combine everything in a 4- to 5-quart pan (according to recipe) and top it off with some cheese before serving.
Old-Fashioned Soft Pumpkin Cookies
Now you didn't think we would go through seven pumpkin recipes and not address dessert, did you? Once you try these Old-Fashioned Soft Pumpkin Cookies from VeryBestBaking.com, we're sure you'll reconsider the traditional pumpkin pie at your Thanksgiving dinner this year.
To make them, you'll need a can of pumpkin puree, flour, baking soda, baking powder, cinnamon, sugar, nutmeg, butter, vanilla extract and one large egg. After combining everything in a bowl, Drop rounded spoonfuls of your batter onto a greased baking sheet. Bake for about 15 minutes in a pre-heated 350-degree oven. Let cool and enjoy.
From breakfast to dessert, and all meals in between, pumpkins are a perfect ingredient to showcase the warm and delicious flavors of autumn.
Do you have a favorite pumpkin recipe? Tell us about it.