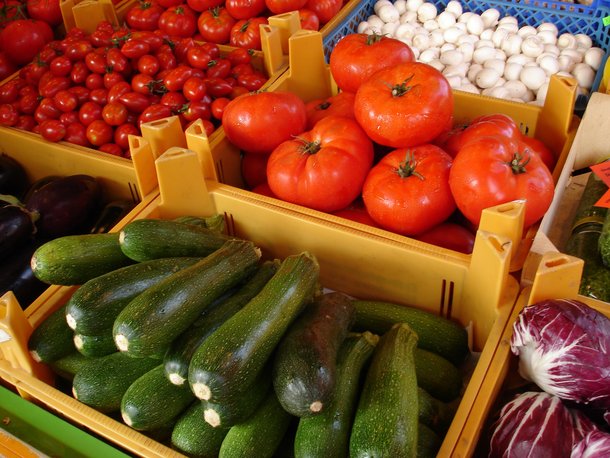 Zucchini is a summer squash that's chock full of vitamins, minerals and essential nutrients that are part of a healthy diet. It's also a vegetable that's incredibly easy to grow. If you grow zucchini in your own garden, chances are, you end up with more than you know what to do with most of the time.
Don't let all that zucchini go to waste. Here are five different ways you can turn your extra zucchini into a tasty, low calorie meal.
Zucchini Bread
The next time you have a bounty of zucchini lying around, try whipping up this Zucchini Bread Recipe from Health.com. According to the website, "It's light, moist, and contains the perfect amount of sweet." You can also throw a handful of walnuts to give you bread a little crunch. What's even better? This bread is just 150 calories per serving.
Here are the ingredients you'll need:
3 cups all-purpose flour
1 teaspoon baking powder
1 teaspoon ground cinnamon
1/2 teaspoon salt
1/4 teaspoon baking soda
1/2 cup egg substitute
1/3 cup canola oil
1 teaspoon grated lemon rind
2 teaspoons vanilla extract
1 large egg, lightly beaten
1 1/2 cups sugar
3 cups shredded zucchini (12 ounces) $
1/4 cup coarsely chopped walnuts, toasted
Cooking spray
Start with preheating your oven to 350 degrees. Combine flour, baking powder, cinnamon, salt and baking soda in a large mixing bowl. In a separate bowl, combine egg, egg substitute, canola oil, lemon rind and vanilla extract, and stir well. Next, add sugar and zucchini. Add wet ingredients to flour mixture and stir in walnuts.  Once everything is in one mixture, divide the batter into two loaf pans coated with cooking spray. Bake for 30 minutes. Let cool and enjoy!
Potato & Zucchini Hash
Hash browns are a breakfast favorite, but they can be unhealthy and loaded with fatty oils. Lighten up your traditional breakfast potatoes with this Potato & Zucchini Hash.
Start with:
2 medium russet potatoes (1 1/2 pounds total), peeled, quartered lengthwise, and thinly sliced crosswise
2 tablespoons extra-virgin olive oil
1/2 medium yellow onion, thinly sliced
Coarse salt and ground pepper
1 medium zucchini, quartered lengthwise and thinly sliced crosswise
4 eggs, sunny side up
First, rinse off your potatoes thoroughly and pat try. In a large nonstick skillet, heat oil over medium-high, then add onions and potatoes. Season with salt and pepper. Cook, stirring frequently, until potatoes are almost cooked through and golden, about 15 minutes. Next, reduce heat to medium and add in zucchini. Cook about 7 minutes, or until zucchini is soft. Season with salt and pepper. To serve, top with eggs.
Zucchini Fries
If you're looking for ways to cut calories, swapping regular french fries for these Zucchini Fries from Health.com is a great way to go. According to the website, "The secret to their light, lean taste? These squash strips get breaded and baked, instead of thrown into a deep fryer.  And, you can lower the cholesterol content by ditching the yolk and using only egg whites."
You'll need the following ingredients:
2 zucchini
1 egg white
1/4 cup milk
1/2 cup shredded Parmesan cheese
1/2 cup seasoned breadcrumbs
Vegetable cooking spray
Then, simply follow these directions directly from the recipe:
"Preheat oven to 425°. Cut zucchini into 3-inch sticks. Whisk an egg white in a small bowl, and add milk. Combine Parmesan and seasoned breadcrumbs in a separate bowl. Dip zucchini sticks into egg mixture, and then roll in breadcrumb mixture. Coat a baking sheet with cooking spray, and place zucchini on sheet. Bake for 25–30 minutes or until golden brown."
Zucchini Noodles
Most of us love pasta. But let's face it, it's not the friendliest food item for our waistlines. Tame your pasta craving with these easy-to-make Zucchini Noodles from WhatsCookingAmerica.net.
According to the website, "By slicing the zucchini lengthwise on a mandoline using the small julienne blade, you can get long thin, noodle-like strands of zucchini for use in salads and for a quick stir-fry. If you don't have a mandoline, you can use a julienne peeler. If you want to practice your knife skills, you can slice the zucchini by hand."
Add extra flavor to your zucchini noodles with this Zucchini Noodles With Pesto from TwoPeasAndTheirPods.com. The website calls it, "A fresh and healthy meal in minutes!"
Zucchini Soup
Bored of the same old brown bag lunch? Why not make a batch of this Easy Zucchini Soup from AllRecipes.com. It's healthy, low calorie and full of flavor.
You'll need:
1/2 cup butter
2 pounds zucchini, cut into chunks
1 (15 ounce) can chicken broth
1 teaspoon salt
1 teaspoon curry powder
Start by melting butter over medium heat. Add zucchini, chicken broth, salt and curry powder. Cook about 15 minutes, or until zucchini is soft. Next, pour soup into a blender (no more than half full). Cover and hold in place. Puree in batches until smooth. Store in separate Tupperware as an easy grab-and-go lunch.
So, the next time you have an abundance of zucchini in your kitchen, don't let them go to waste. Try out one of these healthy and creative recipes your whole family can enjoy. What's your favorite way to prepare zucchini?