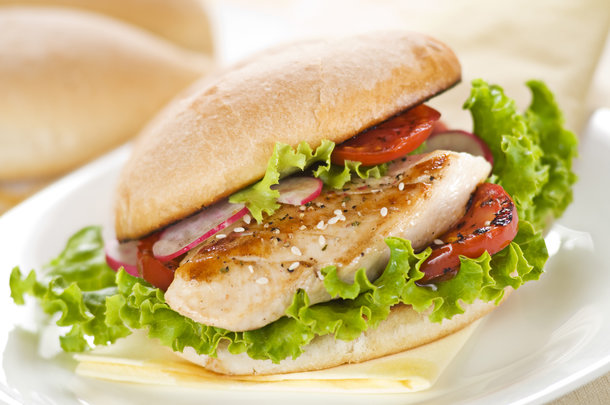 Turkey, stuffing, cranberries, sweet potatoes, and more; these are the accoutrement of the Thanksgiving holiday. But a table full of food usually means a fridge full of leftovers, no matter how many guests you have over. Fortunately, you don't have to let all that delicious food go to waste. Here are ten delicious options that will turn your Thanksgiving extras into post-holiday feasts.
Ingredients
1 package of 2 ready-to-roll pie crusts
Leftover turkey (cut into small pieces)
Leftover gravy
Leftover potatoes
Leftover stuffing
Instructions
Cut the pie dough into 4 or 5 squares and spread the leftovers onto one side. Each pie has a capacity of 1 to 2 tablespoons of filling. Fold the dough over to make a traingle and press the sides with a fork. Brush with a little egg wash and bake at 350 degrees for 15 minutes or until brown.
Serves 4-6
Ingredients
Leftover stuffing
2 eggs
2 teaspoons milk
1 cup seasoned bread crumbs
1 cup cranberry sauce
1/2 teaspoon freshly ground black pepper
1/2 cup walnuts
Oil, for frying
Instructions
Cut leftover stuffing into bite-sized cubes and set aside. Whisk eggs and milk together in a small bowl. Coat each stuffing bit with this mixture, then dip in bread crumbs until fully coated and set aside. Blend cranberry sauce, pepper, and walnuts in a food processor and set aside. Heat oil. Once hot, fry each piece of stuffing until golden brown, approximately 4 minutes. Drain on a paper towel and serve with cranberry pesto.
Ingredients
Challah egg bread
Butter
Leftover cranberry sauce
Leftover turkey
Mayonnaise
Garlic powder
Pepper
White onion
Leftover sweet potatoes
Crushed walnuts
Leftover stuffing
Leftover gravy
Instructions
Butter the egg bread until golden brown. Spread cranberry sauce, top with turkey, then mayonnaise. Chop onion and mash sweet potatoes. Layer on onion, sweet potato, and crushed walnuts. Crisp stuffing in a pan. Place turkey, followed by stuffing on sandwich and drizzle in gravy. Top with bread and enjoy!
Serves 4
Ingredients
4 tablespoons unsalted butter
1/4 cup buttermilk
2 large eggs
2 cups leftover mashed potatoes
3 tablespoons chopped chives
1/2 cup all-purpose flour
1/2 teaspoon baking powder
1/4 teaspoon baking soda
1/2 teaspoon salt
1/2 teaspoon fresh ground black pepper
1/4 teaspoon garlic powder
1 cup grated cheddar cheese
Instructions
Melt butter in small saucepan over medium-low heat. Continue to cook butter until crackling subsides and it begins to brown. Immediately transfer browned butter into medium bowl. Whisk in buttermilk and eggs until consistent. Add mashed potatoes and 2 tablespoons chives and gently stir.
In a small bowl, whisk together flour, baking powder, baking soda, salt, pepper, and garlic powder. Add thix mixture to the previous mixture. Mix until all flour is thoroughly combined. Do not over-mix, simply combine the two ingredients.
Grease a waffle iron and heat. Add about 1/4 cup per waffle into the waffle iron and cook until golden on each side. Remove when done and place on a cooling rack to rest. This will prevent sogginess.
Turn on oven to broiler setting. Place waffles on baking sheet and top with cheddar cheese. Place waffles under broiler until cheese is melted, approximately 30 seconds or so. Remove from onion, sprinkle with chives, and serve.
Serves 3-4
Ingredients
1 tablespoon olive oil
3 tablespoon butter
2-3 cups of leftover stuffing
2 cups mashed potatoes
3 tablespoons flour
1/3 cup grated cheddar
3-4 eggs
Fresh parsley for topping
Instructions
For the pancakes: sprinkle flower on mashed potatoes. Heat a skillet on medium-high heat. Add butter and heat for 30 seconds. Add mashed potato patties and let brown, about 3-4 minutes per side.
For hash: In a large skillet, heat olive oil over medium heat and add butter. Set potato pancakes in pan, then fill holes with stuffing. Cook for 3-4 minutes until golden brown and crispy, then carefully flip and cook for 3-4 minutes more. Heat another skillet and cook eggs as desired. Top pancakes with eggs, garnish with parsley, and serve.
Serves 4
Ingredients
1 pound rigatoni
Salt
2 tablespoons extra-virgin olive oil
1/2 pound hot bulk Italian sausage
1/2 pound sweet bulk Italian sausage
3 cloves garlic, chopped
1 medium red onion, thinly sliced
3/4 cup whole berry cranberry sauce
3/4 cup dry red wine
1 1/4 pounds kale, stems removed and chopped
Nutmeg to taste
3/4 cup Romano cheese
Instructions
Boil a large pot of water for pasta. Add rigatoni and salt and cook to al dente. Drain and reserve 2 ladles of pasta water.
While pasta cooks, heat olive oil in large skillet over medium-high heat. Add sausage, brown and crumble, then add garlic and onions and cook until tender, 5-6 minutes. Add cranberry sauce and wine and stir to combine then reduce for a minute. Add kale in bunches and stir to wilt. Add reserved pasta water, season with salt, pepper, and nutmeg.
Add pasta to the pan, top with cheese and toss to combine. Serve with extra cheese for topping.
Serves 6
Ingredients
1/4 cup extra-virgin olive oil
1 onion, chopped
4 cloves garlic, minced
1 carrot, peeled and finely choped
1 celery stalk, finely chopped
1 pound shredded cooked turkey (preferably dark meat)
3 cups marinara sauce
1/4 cup chopped fresh basil leaves
Salt and freshly ground black pepper
1 pound spaghetti
Freshly grated parmesan
Instructions
Heat oil in large frying pan over medium heat. Add onion and garlic and sauté until translucent, about 5 minutes. Add carrot and celery and sauté until vegetables are tender, about 5 minutes. Add turkey and sauté 1 minute. Add marinara sauce. Lower heat to medium-low and gently simmer for 15 minutes, stirring often. Stir in basil, season sauce to taste with salt and pepper.
At the same time, cook the spaghetti in a large pot with salt until al dente. Drain, reserving 1 cup of pasta water. Add pasta to sauce and toss to coat, adding reserved pasta water to moisten as needed. Top with parmesan.
Serves 4
Ingredients
3 tablespoons unsalted butter
2 tablespoons minced shallots
8 ounces mushrooms, stems trimmed, wiped clean, and sliced
2 teaspoons chopped fresh parsley leaves, plus more for garnish
3 tablespoons all-purpose flour
1 cup plus 2 tablespoons milk
1/2 teaspoon salt
1/8 teaspoon freshly ground black pepper
1/4 teaspoon Essence, recipe follows
1/8 teaspoon cayenne
1 cup grated Swiss cheese
4 slices thick-cut home-style white bread, lightly toasted
8 ounces thinly sliced roasted turkey breast
8 slices bacon, cooked and drained
Chopped fresh chives, for garnish
Instructions
In large skillet, melt 1 tablespoon butter over medium-high heat. Add shallots and cook, stirring, for 30 seconds. Add mushrooms, salt, and black pepper and cook, stirring, until mushrooms begin to color, around 4 minutes. Stir in parsley, remove from heat and set aside.
Preheat broiler and move baking rack to highest position. Line a baking sheet with aluminum foil and set aside.
In saucepan, melt remaining 2 tablespoons butter over medium-high heat. Add flour and cook, stirring, until thick, about 3 minutes, making sure not to let flour brown. Using a whisk, add milk in steadily and cook, whisking constantly, until thick and smooth, around 3 to 4 minutes. Add salt, pepper, Essence, and cayenne and stir well. Add 1/2 cup of cheese, stir, and cook over low heat until very thick and cheese is melted, around 2 minutes. Remove from heat.
Place toasted bread on baking sheet and divide turkey among them. Arrange mushrooms on turkey, spread sauce over top , and sprinkle each with 2 tablespoons of remaining cheese. Place under broiler until bubbly and cheese starts to brown, 1 1/2 to 2 minutes, being careful not to let cheese burn. Remove from oven.
Transfer to 4 plates, arranging with 2 slices of bacon, garnished with parsley and chives. Serve immediately.
Essence spice: combine 2 1/2 tablespoons paprika, 2 tablespoons salt, 2 tablespoons garlic powder, 1 tablespoon black pepper, 1 tablespoon onion powder, 1 tablespoon cayenne pepper, 1 tablespoon dried oregano, 1 tablespoon dried thyme. Yields 2/3 cup.
Serves 4
Ingredients
3 Golden or Red Delicious apples, peeled and chopped
2 teaspoons lemon juice
1 cup apple cider
3 tablespoons brown sugar
1/2 teaspoon ground cinnamon
1 cup prepared whole berry cranberry sauce, store bought or homemade
3 cups smashed or leftover mashed potatoes*
Water or milk, as needed to thin potatoes
2 cups grated Cheddar
2 scallions, finely chopped
1/4 teaspoon freshly grated nutmeg, eyeball it
Coarse salt and pepper
Drizzle vegetable oil
Butter pats
Paprika, to garnish, optional
Instructions
Place apples, lemon juice, cider, sugar, and cinnamon in a medium pot over medium-high heat and cook down until thick, stirring occasionally, around 15 minutes. Remove from heat and stir in cranberry sauce to warm and combine.
Heat large skillet over medium-heat.
Place potatoes and water or milk in bowl and cover with plastic. Microwave on high 2 minutes to loosen potatoes. Stir up with liquid. Combine cheese, scallions, and nutmeg with potatoes and add salt and pepper to taste.
Add vegetable oil and butter to preheated skillet then divide potatoes in half. With first half, make 6 potato cakes and space evenly around pan. Cook cakes until golden, 3 minutes per side, then remove and garnish with paprika. Repeat with remaining ingredients.
Top with cran-apple sauce and serve.
Ingredients
Chilled cooked turkey
Mayonnaise
Asian chile sauce
Thinly sliced peeled cucumber
Grated carrot
Generous handful of fresh cilantro
Whole-wheat baguette
Jalapeno chiles, if desired
Instructions
Chop cooked turkey and mix with mayonnaise and Asian chile sauce. Layer turkey with thinly sliced peeled cucumber, grated carrot, and fresh cilantro inside whole-wheat baguette. Add jalapeño chiles if desired.
So there you have it! With a little creativity, some Thanksgiving leftovers, your next meal could be anything from savory waffles to a spicy Asian sandwich. With options like these, you'll enjoy turning a fridge full of leftovers into a banquet of delicious dishes.